Come to Germany with us! You know you want to.
Look how much fun Jason and Wade had in Zurich, and they only had a few hours. Imagine what could happen with so much time in Germany!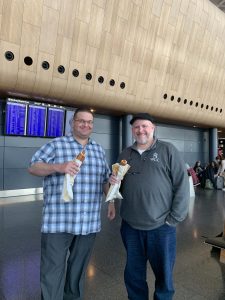 Jason and Wade will be leading a tour of Germany May 13-23, 2024. Both have traveled to Germany numerous times and are very familiar with the sites we will be seeing. Almost all your expenses are included, outside of a few meals and souvenirs. Jason and Wade are excited to share history, context, and all sorts of good stuff about the various places we will visit. We will learn a lot about Luther and Lutheranism, but that won't be all. Many of the sites we'll visit are packed with historical and contemporary significance beyond the Reformation. We had four goals in mind as we planned stuff:  1. soak in the gospel; 2. soak in the history; 3. soak in a different culture,; and 4. soak in some great food, beer,  wine, or sparkling water.
Don't be shy if you're interested. Reach out to Jason or Wade. Ask them about the places we'll be visiting. They'll be sure to share more.
You can also find more information here: Oakland24 11 Day Germany Brochure.
If you'd like to register, check this out:  Oakland24 11 Day Germany Registration Form.
We are excited to get to travel with friends old and new. We can't wait to share so much of what we love about the gospel, history, and culture with you.