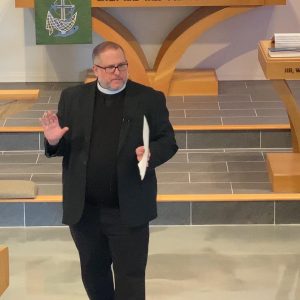 Wade likes bikes.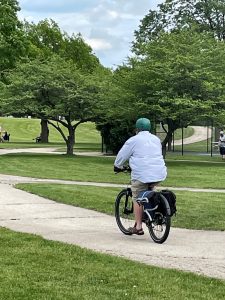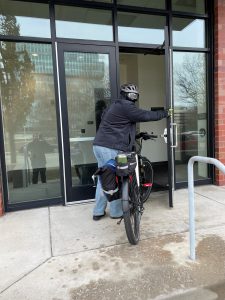 Wade is not nice to Jason, for Jason's own good.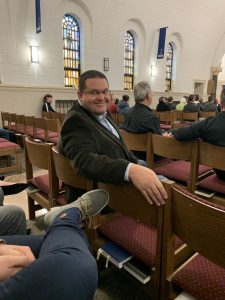 Wade annoys Mike, because Mike is annoyed by fraternal affection.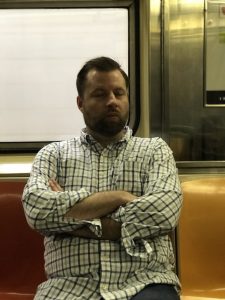 Wade is still a wonderful man. When he can't ride his bike, he makes sure to take the bus to come to see us, because he loves us.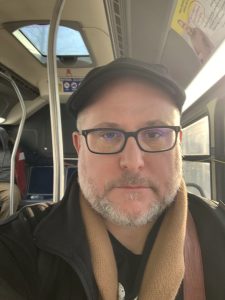 One time, Wade and I took the train together. I liked it, as much as I hate to admit it.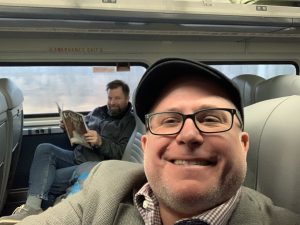 Below you will find a partial curriculum vitae. Before reading that, though, more than anything listed there, Wade is proud of these words from my dear friend and colleague's author page. Wade thanks the Rev. Dr. Michael Berg for such rich and undeserved praise.
"My name is Michael Berg. In many ways, my story can only be told with thankfulness expressed at the start for one man, Wade Johnston. Wade has been a friend, colleague, mentor, inspiration, and constant voice of encouragement. He radiates joy and models grace like few others. As much as he loves bicycles, trains, and buses, he has always loved me more, along with so many others in his life. More than once I've thought of him as a modern St. Francis of Assisi. I do not know where my life would be, let alone my theology, without him."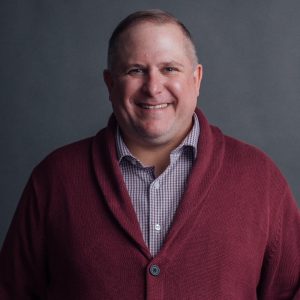 WADE JOHNSTON
Wisconsin Lutheran College
8800 W. Bluemound Road
Milwaukee, WI 53226
(414) 443-8865
wade.johnston@wlc.edu
EDUCATION
Central Michigan University, Mount Pleasant, MI; Erasmus Universiteit Rotterdam, Netherlands
Joint PhD, History, December 2015
Major Field: Early Modern Europe; Minor Fields: Ancient Mediterranean, Modern Europe
Erasmus Universiteit Rotterdam, Netherlands
Research Master in Early Modern Intellectual History, July 2013
Central Michigan University, Mount Pleasant, MI
Master of Arts, History, May 2012
Wisconsin Lutheran Seminary, Mequon, WI
Master of Divinity, May 2004
Martin Luther College, New Ulm, MN
Bachelor of Arts, May 2000
PROFESSIONAL EXPERIENCE
Associate Professor of History and Theology, Wisconsin Lutheran College, Milwaukee, WI
January 2022-present
Associate Professor of Theology, Wisconsin Lutheran College, Milwaukee, WI
July 2020-present
Assistant Professor of Theology, Wisconsin Lutheran College, Milwaukee, WI
June 2014-2020
Executive Committee, Logia: A Journal of Lutheran Theology
July 2016-present
Editorial Associate, Logia: A Journal of Lutheran Theology
July 2013-present
Pastor, Christ Evangelical Lutheran Church, Saginaw, MI
July 2004-June 2014
Teaching Assistant, Central Michigan University, Mount Pleasant, MI
August 2013-May 2014
 LANGUAGES
Reading ability in Greek, Hebrew, Latin, German, Dutch, and Spanish
COURSES TAUGHT
THE 332: Christ and Culture
THE 461: Thought and Life of Martin Luther
THE 110: Introduction to Theology
PHI 201: Ethics
THE 301: Ethics
HIS 111: European History 1, to 1500
HIS 112: European History 2, 1500-1850
HIS 391: Late Antiquity
HON 201: Renaissance and Reformation
THE 234: Pauline Epistles
THE 442: History of the Reformations
HIS 311: History of the Reformations
THE 235: Romans
THE 441: History of Christianity
THE 130: New Testament
THE 401: Basic Teachings of the Bible 1
THE 301: The Book of Genesis
THE 331: Introduction to World Religions
 PUBLICATIONS, AUTHOR
"In Statu Confessionis: Steadfast for the Sake of Freedom"
Essay in Free and Locked Up
1517 Publishing, 2022
"Christianity and Poverty"
Essay in Luther's Large Catechism with Annotations and Contemporary Applications
Concordia Publishing House, 2023
"We Must Obey God Rather than Man: The Lutheran Legacy of Resistance"
One Lord, Two Hands: Essays on the Theology of the Two Kingdoms
Concordia Publishing House, 2021
Let the Bird Fly: Life in a World Given back to Us
1517 Publishing, 2019
"Adiaphora and Confession: Flacius' Magdeburg Writings Produced in Exile" in Matthias Flacius Illyricus – Biographische Kontexte, theologische Wirkungen, historische Rezeption
Proceedings of the 3rd International Conference on Matthias Flacius Illyricus, Labin, 22-24 April 2015, Labin (Kroatien), 2019
 "A Reformation in Preaching: Preaching as a Means of Grace"
Logia: A Journal of Lutheran Theology XXVII, no. 2 (Eastertide 2018)
The Devil behind the Surplice: Matthias Flacius and John Hooper on Adiaphora
Pickwick Publications, 2018
A Path Strewn with Sinners: Jesus' Race to the Cross
New Reformation Publications, 2017
Entries on Nicholas von Amsdorf, the Saxon Visitations, and the Book of Concord in Encyclopedia of Martin Luther and the Reformation
Rowman & Littlefield, 2017
An Uncompromising Gospel: Lutheranism's First Identity Crisis and Lessons for Today
New Reformation Publications, 2016
"Matthias Flacius and the Persistence of Genuine Lutheranism" in Reformation 500: The Enduring Relevance of the Lutheran Reformation
Northwestern Publishing House, 2016
 "Preface: Life, Liberty, and the Pursuit of Happiness"
Logia: A Journal of Lutheran Theology XXV, no. 3 (Holy Trinity 2016)
"We Must Obey God Rather than Men: The Lutheran Legacy of Resistance"
Logia: A Journal of Lutheran Theology XXV, no. 3 (Holy Trinity 2016)
"Preface: Martyrdom and Suffering"
Logia: A Journal of Lutheran Theology XXIV, no. 2 (Eastertide 2015)
"American Ideals in German Print: The Opposition of the Evangelical Synodical Conference to the 1889 Bennett Law in Wisconsin"
Journal of the Lutheran Historical Conference (2014)
Pentecost Devotions, John 16:5-11
Meditations 57 (2014), 6/8/2014-6/14/2014
"Spare the Rod, Hate the Child: Augustine and Luther on Discipline and Corporal Punishment"
Logia: A Journal of Lutheran Theology XX, no. 4 (Reformation 2011)
"Article X of the Formula of Concord and Lutheranism Today"
Lutheran Synod Quarterly 50, no. 1 (March 2010) 
PUBLICATIONS, TRANSLATOR
Adiaphora and Tyranny, Matthias Flacius Illyricus
Magdeburg Press, 2011
How to Understand the Sacred Scriptures, Matthias Flacius Illyricus
Magdeburg Press, 2011
"Sermon for the Fourteenth Sunday after Trinity, Gal. 5:16-24," Martin Luther
Luther's Works, vol. 58, Concordia Publishing House, 2010
"Sermon for the Twenty-second Sunday after Trinity, Phil. 1:3-11," Martin Luther
Luther's Works, vol. 58, Concordia Publishing House, 2010
"Sermon for the Twenty-third Sunday after Trinity, Phil. 3:17-21," Martin Luther
Luther's Works, vol. 58, Concordia Publishing House, 2010
"Household Sermon for the First Sunday after Easter," Martin Luther
Luther's Works, vol. 69, Concordia Publishing House, 2009
"Sermon for the First Sunday after Easter, April 23, 1536," Martin Luther
Luther's Works, vol. 69, Concordia Publishing House, 2009
 "Funeral Sermon on Psalm 86:11," Paul Gerhardt
Lutheran Synod Quarterly 48, no. 1 (March 2008)
Sacred Meditations, Johann Gerhard
Magdeburg Press, 2008
PUBLICATIONS, EDITORIAL WORK
Witness, Hermann Sasse, Translated by Bror Erickson
Magdeburg Press, 2013
Then Fell the Lord's Fire, Bo Giertz, Translated by Bror Erickson
Magdeburg Press, 2012
BOOK REVIEWS
Review of Matija Vlačić Ilirik [III]: Proceedings of the Third International Conference on Matthias Flacius Illyricus, Labin/Croatia, 2010
Reformation and Renaissance Review 17.3 (2015)
CONFERENCE PRESENTATIONS
"A Lutheran Ethic? From Plato to Protestantism"
Milwaukee Urban Conference, WELS, Milwaukee, WI, November 11, 2021
"In Statu Confessionis: Steadfast for the Sake of Freedom"
Lutherske Fordypningsdager (Lutheran Study Days), Bergen, Norway, September 8, 2020
(presented remotely due to COVID-19)
"The Wittenberg Movement"
Los Angeles and Orange Circuits, WELS, Torrance, CA, November 4, 2019
"I Believe We Are Free""
Here We Still Stand, San Diego, CA, October 18, 2019
"An Uncompromising Gospel: Freedom, Not Fear"
Cypress Pastors Conference, WELS, Merritt Island, FL, September 23-24, 2019
"Apologetics in the Life of a Lutheran Christian"
Michigan District Convention, WELS, Saginaw, MI, June 11, 2018
"The Heidelberg Disputation"
Shoreland Pastors Conference, WELS, Kenosha, WI, April 24, 2018
"Teaching the Reformations of the Sixteenth Century at a Contemporary Lutheran College"
Sixteenth Century Society Conference, Milwaukee, WI, October 27, 2017
"Luther's Life and Message"
Dallas-Fort Worth Circuit, WELS, Dallas, TX, October 30, 2017
"The Ongoing Relevance of Luther's Reformation"
Kettle Moraine, Shoreland, Western Lakes, and Winnebago Joint Pastors Conference, WELS,
Elkhart Lake, WI, September 19-20, 2017
"Forward with the Reformation's Focus on Education"
Wisconsin-Chippewa-River Valley Pastors Conference, WELS, Stevens Point, WI, May 1, 2017
"Forward with Our Reformation Heritage"
Western Lakes Pastors Conference, WELS, Lannon, WI, April 24, 2017
"Luther and His Friends"
Minnesota District Church Leaders Workshop, WELS, Belle Plaine, MN, March 4, 2017
"The Lutheran Reformation of Education"
Metro Milwaukee Lutheran Teachers Conference, WELS, Milwaukee, WI, March 2, 2017
"Lutheranism's First Identity Crisis"
Ohio Conference, WELS, Jenera, OH, January 16-17, 2017
"The Path to Concord"
Metro/Urban Milwaukee Pastors Get-Away Conference, WELS, Green Lake, WI, January 10-11, 2017
"The Struggle to Preserve Luther's Uncompromising Gospel"
Alaska Conference of Pastors and Teachers, WELS, Anchorage, AK, October 31-November 1, 2016
"Equipping God's People to Stand Firm on the Word of God in the 21st Century"
Nebraska District Convention, WELS, Waco, NE, June 6-8, 2016
"The Church Confesses, Still"
California-Nevada Pastors Conference, WELS, Belmont, CA, January 25-26, 2016
"Matthias Flacius Illyricus: The Magdeburg Exile"
Internationale Tagung zu Matthias Flacius Illyricus, Labin, Croatia, September 17, 2015
"The Lutheran Confessions in the Lutheran Parish"
Milwaukee Urban Conference, WELS, Milwaukee, WI, May 14, 2015
"Luther and the Earthy Christ"
Gulf Coast Circuit, WELS, The Woodlands, TX, November 1-2, 2014
"American Ideals in German Print"
Lutheran Historical Conference, Wisconsin Lutheran College, Milwaukee, WI, October 10, 2014
"'Holy History': Matthias Flacius' Argument against the Interims from the Church's Past"
Lutheranism and the Classics, Concordia Theological Seminary, Ft. Wayne, IN, October 3, 2014
"Human, All Too Human: Original Sin, Matthias Flacius, and the Nature of Man"
Northern Conference, WELS, North Branch, MI, October 1, 2013
"Original Sin, the 'Culture of Controversy,' and Lessons for Today"
Pastors Institute, Nebraska District, WELS, Omaha, NE, July 8-10, 2013
"Spare the Rod, Hate the Child: Luther and Augustine on the Discipline of Children"
Lutheranism and the Classics, Concordia Theological Seminary, Ft. Wayne, IN, September 28, 2012
"The Adiaphoristic Controversery, Formula of Concord X, and Lutheranism Today"
Pastors Institute, Nebraska District, WELS, Omaha, NE, July 9-11, 2012
"American Ideals in German Print: The Opposition of the Evangelical Lutheran Synodical Conference to the 1889 Bennett Law in Wisconsin"
Borders, Boundaries, and Beyond, Central Michigan University, Mount Pleasant, MI, April 13, 2012
"Moses the Lutheran: Matthias Flacius and the Old Testament"
Matthias Flacius and the Lost Lutheran Hermeneutic, Northfield, MN, November 26, 2011
"The Christian and Political Parties: Martin Luther on the Christian as Citizen"
Northern Conference of the Michigan District, WELS, Traverse City, MI, September 29, 2008
PREACHING SERVICE FOR THE CHURCH
Pastoral Assistant, Pilgrim Lutheran, Menomonee Falls, WI
March 2022-present
Pulpit Assistant, St. John Lutheran, Mukwonago, WI
July 2014-August 2016
Guest Preacher, Various Locations
July 2014-present
THESIS SUPERVISION FOR WISCONSIN LUTHERAN SEMINARY
"Lutheran Political Resistance: The Magdeburg Confession of 1550 and the Doctrine of the Lesser Magistrate"
Anthony Pflughoeft
Fall 2021-Spring 2022
"Changing Media and the Changeless Message: Sharing the Gospel through New Media"
Daniel Schmidt
Fall 2020-Spring 2021
WORKS IN PROGRESS
Biography of Matthias Flacius Illyricus
Translation of Magdeburg Confession (German and Latin)
OTHER MEDIA
Let the Bird Fly!
Podcast and Website (letthebirdfly.com)
Contributor at 1517.
Blog Posts and Other Online Content (https://www.1517.org)
PROFESSIONAL MEMBERSHIPS
Sixteenth Century Society & Conference
Society for Reformation Research
Lutheran Historical Conference
American Historical Association